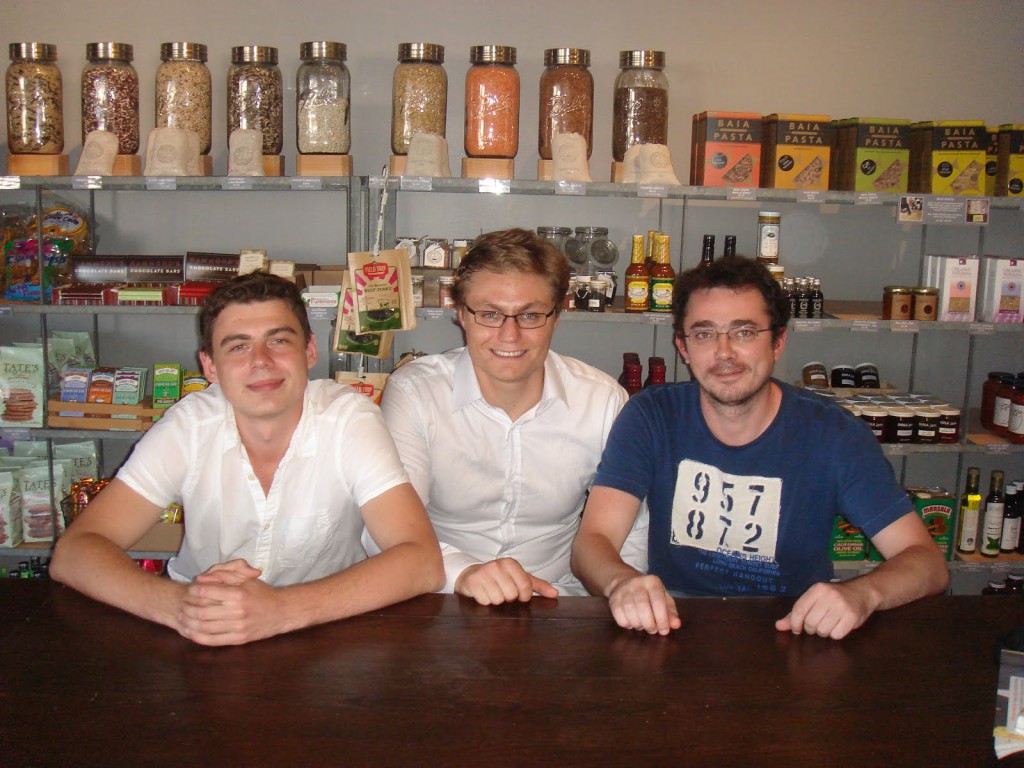 Cookstream: Die personalisierte Kochshow
In unserem ersten Experten-Interview aus dem Silicon Valley stellen wir Ihnen heute das Startup Cookstream vor:
Last week I have met a new and very exciting startup in the food space, based in San Francisco – CookStream. They sound like Uber for culinary advice. The founder Daniil Brodovich gave me a short interview explaining the core idea behind the CookStream.
(Polina) Hi Daniil, please introduce yourself and give me an elevator pitch of CookStream

( Daniil) Hello, I'm Daniil Brodovich, I found Cookstream in October 2012 right after becoming one of the winners of Startup Weekend 2012 Competition in San Francisco. CookStream is an online platform where people can get their cooking questions instantly answered in real time by a real professional chef via video chat.

So think about it as a video hotline where there is professional who will always able to help you. We are making professional chefs accessible to give instant advice to any one from the comfort of their home in just a few clicks. It's a unique service for people who want to improve their cooking skills and professional chefs who'd like to get their name out and earn additional income. The service is free, but a tip is highly appreciated and we recommend a certain sum after our users end a session.
(Polina) What problem are you solving and what is unique about you?

(Daniil) Well, the main problem which we are focusing is the absence of a professional advice when its really needed in our everyday life. The main and the most important area of life we've decided to work on is cooking and nutrition advice, here is the reason why the company is calling CookStream rather than anything else. There is no other company in this field in the world that made availability of professionals instant on demand available via life video streaming. So right now people call their family and friends, google though millions of low quality articles and post questions on forums, spending a lot of valuable time; while with as they just need to ask.

(Polina) With Cookstream.tv concept you show that you are a believer of Uberification, why?

(Daniil) We believe that in the urban environment parents don't spend as much time with their children as the ones who live in suburbs. This is one of the reason why these children grow up with out of some essential knowledge such as cooking. At the same time its not always bad, since now our new generation of citizen are more open to new ideas in diet which is often more healthy than the ones our parents prefer. So we are in a business of some sort of substitute of the parents support and advise in culinary space, but instead or family members advice we are offering real professionals with knowledge of variety of cuisine, and diet.

(Polina) Did you have to pivot and why?

(Daniil) Yes, we had two major pivots so far, and I wouldn't be very surprised if we have to do a new one in future. The very first product with which we won was more about finding random people to talk while you are cooking. Then we were offering cooking classes online in real time from professional chefs. So CookStream as a cooking helpline is the third iteration of the product in this sense. The main reason why we've made our pivots was via interviewing our users and random people on the streets, who where not familiar with our service.

(Polina) What were your biggest challenges till now? What do you expect for the next 6 months?

(Daniil) Since we are building a market place, we are facing a traditional dilemma: You don't have buyers if there are not enough of sellers, while you don't get enough of sellers if there are no buyers. Well we believe that the right way to approach these markets is by approaching one side first and then the other will come, and constantly repeating this strategy while growing increasing the value. In next 6 moths we expect our first business customers – recipe websites – to adopt our technology and install "ask a chef" widget, that would allow their users to speak with our chefs with out leaving the websites they where surfing.

(Polina) Who are your competitors?

(Daniil) Outside an advice from your relatives and friends, the biggest competitor is helpouts.google.com. It's interesting, that we've developed a similar product 4 months before their launch, but had to play back and do our last pivot. The main reason why we had to change our product was because live-time value of a customer was lower than a cost of customer acquisition. Well google has enough of cash pillow to play negative NPV for a while, we had to make significant changes in our product to me more attractive to our customers.

(Polina) Do you have a pure B2C business model or there is a potential for B2B revenue streams?

(Daniil) We believe that we are more B2B2C business model. The main way we are getting our customers is by making partnerships with 3rd party recipe websites, who want to give additional value proposition to their customers and make additional income at the same time. The way we are doing that is by giving away external API that can easily be included to a recipe website and have our "ask a chef" button available for their users. Avery time their user make a transaction with our chefs, our partners receive revenue in term of percentage of the transaction.

(Polina) How do you imagine CookStream in 5 years from now?

(Daniil) After we've began working on the professional advice on demand from culinary professionals, we've immediately received a lot of requests to use the same system in other markets such as fashion, home improvement, physiological support and so on. In 5 years we see the company to operate in many aspects of everyday life where professional advice will be always available for anyone.

Our goal is to make a professional advice available on demand on every part of everyday life or a regular person.