About 11 months ago I had a thought: "How convenient it would be, to be able to order groceries on the go from your smartphone and when arriving at the store, to just pick-up the package without waiting in the line?". Back then I did not realize that the interests of customers so much differ from interests of grocery retailers.
When you look around in Germany, it seems that for the traditional grocery chains it is easier to set up the whole infrastructure for online shopping, including warehouse, logistic system, car park rather than have a marginal service improvements at the existing PoS enabling a pick-up.
This strategy appears to me very questionable, since in urban areas of Germany we have supermarkets on every corner and a pick-up service would make lots of sense and can be easily tested at selected stores.
I took a look on the trends around the pick-up service and here is my short research results. Not quite surprisingly I have found that it is rather startups than traditional retailers who are trying to solve this equation.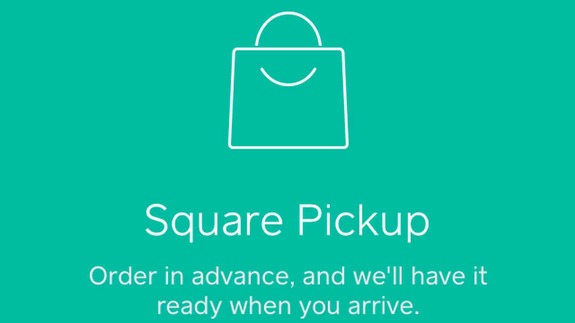 I have recently been standing in the line in Wholefoods and saw the sign upon my head: PICK-UP here. New Square Order App allows customers to order ahead of time from Square merchants, and pay within app ahead of pickup. They are in beta-test with several local businesses: cafes, restaurants and a grocery chain Wholefoods.
At the moment they offer pre-order and pick-up not for groceries but for prepared meals and beverages.
It is not quite yet the service I was thinking about, but I am sure it is only a start.
Because there is another service named Peapod, which is initially a pure online grocery store, which discovered the power of pick-up. User can decide where to pick-up the order between different affiliate locations, it might be for example in the fitness center. You can decide yourself what is rather on your way. Peapod is the oldest one, they launched their website back in 1996!
There are also relatively new startups such as RelayFoods – an online market for sustainable foods. They cooperate with local farmers and offer an alternative to conventional grocery stores. And they also offer a grid of pick-up locations – that are close to major employment centers.
The third startup I discovered is called Farmigo – the initial concept is similar to RelayFoods: local produce and they also encourage users to pass by at the pick-up locations. But a huge difference is that customers can decide themselves where they want to start a new pick-up location. This approach additionally incorporates the component of sharing economy, so that anybody can become a pick-up station for others. For example in schools:

Fortunately, there is a traditional chain, which pioneers the pick-up at the PoS. One of the most innovative markets in terms of grocery retail concepts, in my opinion, is in Europe and it is our neighbors – France.
French retailers were one of the first to introduce the drive-in service and to offer a pick-up at the train stations. The concept which I had in mind when I started the research, was actually implemented by a discounter DiaDiscounter with their first pilot in Paris in the beginning of this year.
Their solution includes a mobile app for ordering and payment and a system of refrigerated lockers for customer pickup. You simply receive your number of the box and pin code and can pick it up at the preselected time. Yes, it is already reality just behind the border.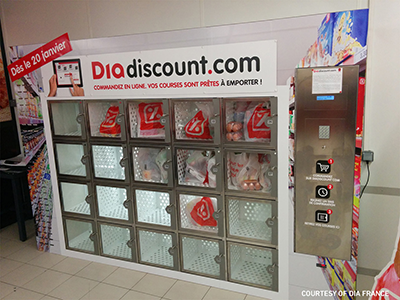 My final take for now:
– While german retailers are afraid of losing their upsell through spontaneous buys, customer does while wondering in between the shelves, they underestimate another target group: people who would rather avoid going into the store because of the wasted time but are not using grocery delivery because it does not facilitate their spontaneous decisions.
– Interestingly, the traditional retailers do not realize that their secret weapon is their existing stores, which can be used as mini fulfillment centers for ad-hoc mobile-to-local orders. Which makes it more efficient for both retailers and customers.
– Online players solve their density problem by growing their net of pick-up locations.
– User-friendly online or mobile grocery experience is of key importance for both e-tailers and traditional retailers.